Becoming An Environmental Consultant: Step-By-Step Guide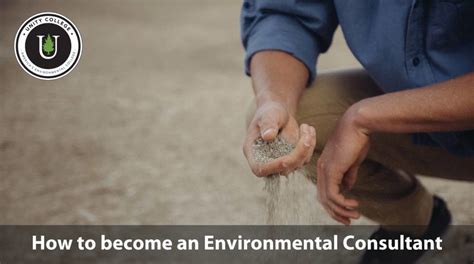 Are you passionate about protecting the environment and looking for a career that makes a difference? Consider becoming an environmental consultant! Environmental consultants work with organizations and government agencies to develop and implement strategies that minimize the impact of human activities on the environment. In this step-by-step guide, we'll walk you through the process of becoming an environmental consultant, including education, skills, and job prospects.
Step 1: Understand the Role of an Environmental Consultant
Environmental consultants help organizations ensure that their operations comply with environmental regulations, minimize their environmental impact, and identify opportunities to improve sustainability. They may conduct site assessments, analyze data, develop plans, and provide training to clients. The job requires a strong understanding of environmental science and policy, as well as excellent communication and problem-solving skills.
Attributes of an Environmental Consultant
Strong analytical and critical thinking skills
Excellent communication and interpersonal skills
Attention to detail and accuracy
Ability to work independently or as part of a team
Ethical and responsible behavior
Step 2: Gain Relevant Education and Training
Most environmental consultants have a bachelor's degree in environmental science, biology, chemistry, geology, or a related field. Some employers may require a master's degree or professional certification. Coursework typically covers topics such as environmental regulations, pollution prevention, risk assessment, and sustainability. Hands-on experience through internships or research projects can help you develop practical skills and make you a more competitive job candidate.
Top Institutions for Environmental Science Education
| Institution Name | Location |
| --- | --- |
| Massachusetts Institute of Technology | Cambridge, MA |
| Stanford University | Stanford, CA |
| University of California – Berkeley | Berkeley, CA |
| Harvard University | Cambridge, MA |
| California Institute of Technology | Pasadena, CA |
Step 3: Develop Relevant Skills
In addition to formal education, environmental consultants need a variety of skills to succeed in their jobs. These include:
Technical skills in areas such as data analysis, modeling, and GIS
Project management skills to manage budgets, schedules, and resources
Interpersonal skills to work with clients, stakeholders, and team members
Problem-solving skills to identify and solve complex environmental problems
Communication skills to write reports, give presentations, and convey technical information to non-technical audiences
Step 4: Gain Practical Experience
Practical experience is essential to becoming an environmental consultant. This can be gained through internships, co-op programs, research projects, or volunteer work. Look for opportunities that allow you to apply your knowledge and skills in real-world settings. Networking with professionals in the field can also help you learn about job opportunities and gain valuable insights into the industry.
Top Organizations for Environmental Consulting Internships
The Nature Conservancy
Environmental Defense Fund
World Wildlife Fund
Greenpeace
National Wildlife Federation
Step 5: Identify Job Prospects
The job outlook for environmental consultants is positive, with a projected job growth of 8% from 2019-2029. Environmental consultants are needed in a variety of industries, including government, consulting firms, engineering firms, and non-profit organizations. Look for job postings that match your skills and interests, and tailor your resume and cover letter to each position.
Top Companies for Environmental Consulting Jobs
AECOM
CH2M Hill
Golder Associates
Tetra Tech
ERM
Conclusion
Becoming an environmental consultant requires a combination of education, skills, and experience. By following the steps outlined in this guide, you can prepare yourself for a rewarding career that makes a positive impact on the environment. Remember to stay up-to-date with industry trends and regulations, network with professionals, and continually develop your skills to stay competitive in the field.
FAQs
What is the average salary for an environmental consultant?
According to the Bureau of Labor Statistics, the median annual salary for environmental consultants was $71,360 in May 2019.
What kind of organizations hire environmental consultants?
Environmental consultants can work for a variety of organizations, including government agencies, consulting firms, engineering firms, and non-profit organizations.
What skills do I need to become an environmental consultant?
Environmental consultants need a variety of skills, including analytical and critical thinking skills, communication and interpersonal skills, project management skills, problem-solving skills, and technical skills in areas such as data analysis and modeling.