Teen Resume Examples And Writing Tips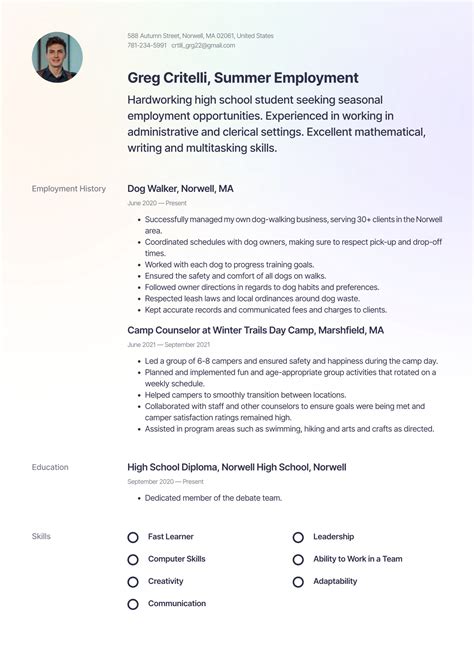 As a teen, creating your first resume can be daunting. You might not have much work experience, but that doesn't mean you can't create a strong resume that will impress potential employers. In this article, we'll provide you with examples of teen resumes and offer tips on how to make yours stand out.
1. Start with a Strong Header
The header of your resume should include your name, contact information, and a professional email address. Your email address should be simple and easy to remember, such as firstname.lastname@email.com.
2. Write a Compelling Objective or Summary
Your objective or summary statement should be brief and concise. It should summarize your skills, experience, and career goals. For example, "High school student with strong communication and leadership skills seeking part-time retail position."
3. Highlight Your Education
Your education section should list your high school and graduation date. You can also include any relevant coursework or academic achievements. For example, "Honors student with a 3.8 GPA."
4. Showcase Your Skills
Your skills section should highlight your abilities and strengths. This can include soft skills like communication, teamwork, and time management, as well as technical skills like proficiency in Microsoft Office or Adobe Creative Suite.
5. Include Relevant Work Experience
Even if you don't have a lot of work experience, you can still include relevant experience such as volunteer work, internships, or part-time jobs. Be sure to include the name of the company or organization, your job title, and your responsibilities.
6. Use Action Verbs
When describing your work experience and skills, use action verbs to make your resume more dynamic and engaging. Words like "managed," "created," and "collaborated" are great examples.
7. Customize Your Resume for Each Job
Don't use the same resume for every job application. Tailor your resume to the specific job you're applying for by including keywords from the job description and highlighting relevant skills and experience.
8. Keep it Concise
Your resume should be no longer than one page. Use bullet points and concise sentences to make it easy to read and skim.
9. Proofread and Edit
Before submitting your resume, make sure to proofread it carefully. Check for spelling and grammar errors, and make sure your formatting is consistent.
10. Include References
You don't need to include references on your resume, but you should have a list of references ready to provide if requested. Choose people who can speak to your work ethic and skills, such as teachers, coaches, or supervisors.
Conclusion
Creating a strong resume as a teen may seem challenging, but with the right guidance and tips, it can be done. By highlighting your skills, experience, and education, customizing your resume for each job, and keeping it concise and error-free, you can make a great impression on potential employers.
FAQs
What should a teenage resume look like?
A teenage resume should include a strong header with your name and contact information, a compelling objective or summary statement, your education, skills, relevant work experience, and references.
How do you write a resume when you have no experience?
If you don't have much work experience, focus on highlighting your skills, education, and any relevant extracurricular activities or volunteer work. You can also include a section on personal projects or hobbies that demonstrate your skills and interests.
What should you not include in a teen resume?
You should not include irrelevant work experience, such as babysitting or mowing lawns, unless it's relevant to the job you're applying for. You should also avoid including personal information like your social security number or a photo.
How long should a teen resume be?
A teen resume should be no longer than one page.
Should you include references on a teen resume?
You don't need to include references on your resume, but you should have a list of references ready to provide if requested.